Search the OCL Database
for past and upcoming events on college campuses.
Sign up today if you don't have an account.
Homecoming SZN at HBCU's: Concerts, Comedy, and Celebration
Author Name:

Alexis Young | Howard University
Fall is here and you know what that means… Homecoming SZN. The most exciting time of the year, no doubt! HBCU alumni swarm back to their alma maters for a week-long reunion full of festivities from the football game, fashion show, step show, to the oh-so infamous tailgate. Not to mention the wild nights of debauchery that most attendees won't even remember. Homecoming is a true testament to HBCU pride, where students – both old and new – come to celebrate the legacy of their illustrious institutions. We're counting down the top 5 most NOTORIOUS HBCU Homecomings.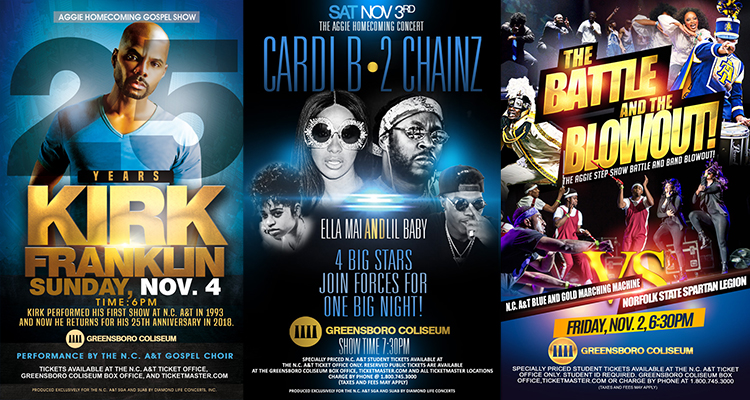 Dubbed the Greatest Homecoming On Earth (GHOE) and rightfully so. Students from across the nation flock to Greensboro to see the spectacle that is NCAT's homecoming. The school pride is contagious if you go to an HBCU and if you don't, it'll sure make you wish you did. They do it bigger and better with headliners such as Marlon Wayans, Tamela Mann and Migos, they pull out all the stops and every year prove why they're number one. Last year's Homecoming Concert was headlined by Migos and Gucci Mane, while the 2018 edition is likely to be straight fire – Cardi B and 2 Chainz will end the show, with performances from Ella Mai and Lil Baby as direct support.  
HU….. YOU KNOW! There's no homecoming like a Howard Homecoming and that's just a fact. It's the quintessential homecoming, known for the legendary Yardfest, the littest parties, celebrity appearances and the Alpha Chapter for most of the Divine 9… There's no wonder why Howard remains a must see homecoming. Alumni such as Diddy, Taraji P. Henson, Chadwick Boseman and Debbie Allen, all come back home to revel in what it is to be a Bison. After a brief hiatius in 2014 and 2015, Yardfest came roaring back with Lil Uzi Vert, Common, and Wale, who were followed in 2017 by Rick Ross, Tory Lanez, and Wale. The 2018 Yardfest Lineup has yet to be announced, but we're waiting anxiously. 
Nobody does it quite like FAMU! If you want to see a good football game and hear a band that rocks the nation, FAMU homecoming is just for you! The Rattlers football team is outstanding, having a reputation that precedes them, but their band is the true gem. Home to the famous Marching 100, they'll put on a show that'll make your school fall it its knees. FAMU's homecoming also features some incredible talent. The 2018 Homecoming Show will be headlined by Gucci Mane and Kodak Black, a worthy follow up to the 2017 Concert with 21 Savage and 2 Chainz. In addition to outstanding musical talent, FAMU has brought their fair share of comedic talent as well, this year including a performance from the Wild N Out crew, featuring Karlous Miller, Chico Bean, and D.C. Young Fly.
Southern's homecoming is definitely a once in a lifetime experience. Home to the Dancing Dolls, the standard for HBCU dance lines, they get you into the spirit for a true Southern Homecoming. Their staple gospel is just one of many events throughout their week such as their alumni v. student basketball game, greek show and homecoming concert, their homecoming is one that will keep you entertained the entire time you're there. With a week so focused on music, it would be incomplete without a concert. This year's homecoming featured Yo Gotti with Avant and Money Bag, after a 2017 headlined by Lil Wayne.
Star studded events with 2x the pride, the Atlanta University Center gets set on fire during homecoming. Home to Spelman College and Morehouse University, this dirty south homecoming is one like no other. The students truly make this homecoming one of the best as these prestigious universities come together and celebrate each other. Anything and everything will happen at one of ATL's biggest weekends, including performances from incredible musical acts. Travis Scott headlined the 2017 Spelhouse Homecoming Concert, joining such artists as Young Thug, Wale, Future, and Rick Ross in the list of storied talent to appear. To date, neither institution announced the 2018 Homecoming performers.
Want to know who else has been to these schools? Click the name to see the event history for each institution.
DISCUSS THIS NEWS
advertisment